Virtual lab!
We invite you to participate in our online research! Our studies are for children between 14 months and 6 years of age, and we would love for your family to participate.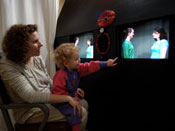 Our online studies are conducted via Zoom! The studies are short and fun, and we will offer your family a $5 Amazon gift card to thank you for participating. We conduct two main kinds of studies online: looking-time studies, and story-telling studies:
In looking-time studies, your child will watch short videos on the computer screen. At critical points in the video, we measure where on the computer screen your child is looking. We use this information to tell us how children understand the events they see, or how they learn new words.
In other studies, we will play a story-telling game with your child over Zoom, taking turns to complete a sentence or finish a story, illustrated by pictures on the computer screen.
If you would like to participate with your child in one of our studies, please use this form to volunteer! You can also contact us at (217) 244-6098 or by e-mail at lalab@illinois.edu. We would be very happy to hear from you!