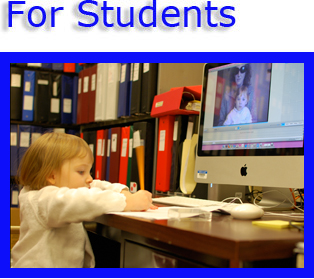 Research Opportunities for UIUC Undergraduates
We always have openings for new undergraduate assistants in the Language Acquisition Lab, for Fall and Spring semesters, and Summer Session II. Getting involved in research is great preparation for students interested in attending graduate school.
For the Spring Semester of 2017, we are especiallly looking for students interested in working in the lab from 9:00AM to noon on Friday mornings.
Students can learn about and participate in many aspects of research in language acquisition, including any of the following:
helping to design materials for experiments
testing toddlers, preschoolers, and adults in experiments
transcription and coding of children's speech
coding visual fixations from videotapes
acoustic analyses of speech
We need reliable, energetic students, with an interest in language and speech. Previous experience with children, and prior coursework in cognitive psychology, speech & hearing, or linguistics, are very helpful.
If you are interested in language and in children, and have room in your schedule for a Psych 290, please contact us. Please copy this application into an email message and send it to us at lalab@illinois.edu.