(click on the picture to purchase the book)
Authored Books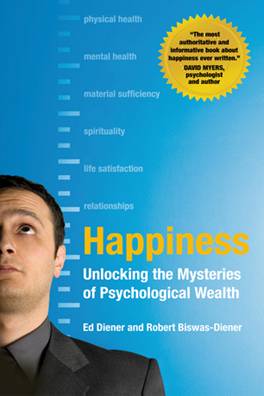 By Ed Diener, and Robert Biswas-Diener
Click here for detailed book description
Utilizing sophisticated methodology and three decades of research by the world's leading expert on happiness, Happiness challenges the present thinking of the causes and consequences of happiness and redefines our modern notions of happiness.
Winner of the 2008 PSP Prose Award for Excellence in Psychology, Professional and Scholarly Publishing Division of the Association of American Publishers
(from Amazon.com)
by Ed Diener, Daniel Kahneman, and John Helliwell
This book draws together the latest work from scholars around the world using subjective well-being data to understand and compare well-being across countries and cultures. Starting from many different vantage points, the authors reached a consensus that many measures of subjective well-being, ranging from life evaluations through emotional states, based on memories and current evaluations, merit broader collection and analysis. Using data from the Gallup World Poll, the World Values Survey, and other internationally comparable surveys, the authors document wide divergences among countries in all measures of subjective well-being, The international differences are greater for life evaluations than for emotions. Despite the well-documented differences in the ways in which subjective evaluations change through time and across cultures, the bulk of the very large international differences in life evaluations are due to differences in life circumstances rather than differences in the way these differences are evaluated.
(from Amazon.com)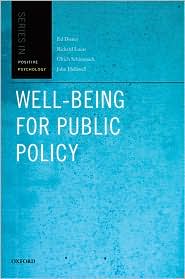 by Ed Diener, Richard Lucas, Ulrich Schimmack, and John Helliwell
In this volume, the authors explain the reasons why subjective indicators of well-being are needed. They describe how these indicators can offer useful input and provide examples of policy uses of well-being measures. The book then delves into objections to the use of subjective well-being indicators for policy purposes and discusses why these objections are not warranted. Finally, the book contains answers pertaining to the measures that are currently in use and describes the types of measures that are most likely to be valuable in the policy domain.
At the most ambitious, even audacious, level, Well-Being for Public Policy has the potential of transforming society by making people and policy more concerned about well-being, and less concerned about economics and income. The existence of national measures of well-being would draw more interest to the rewarding and problem areas of life, and serve to give a broader focus to societal decisions. National accounts of well-being could reorient societies so that social values, the environment, enjoyable work, and physical and emotional health are given prominence along with economic development. This book is an invaluable treatise on current understanding of the complex relationship between well-being and public policy-- it will be of great interest to researchers in the fields of psychology and economics.
(from Amazon.com)
By Ed Diener
The collected works of Ed Diener, in 3 volumes, present the major works of the leading research scientist studying happiness and well-being. Professor Diener has studied subjective well-being, people's life satisfaction and positive emotions, for over a quarter of a century, and has published 200 works on the topic, many more than any other scholar. He has studied hundreds of thousands of people in over 140 nations of the world, and the collected works present the major findings from those studies. Diener has made many of the major discoveries about well-being, which are outlined in the chapters.
Volume 1: Presents the major theory and review papers of Ed Diener. These publications give a broad overview of findings in the field, and the theories of well-being. As such, the first volume is an absolute must for beginning scholars in this area, and offers a clear tutorial to the history of the field and major findings.
Volume 2: Focuses on culture. This volume is most unique, and could sell on its own, as it should appeal to cultural psychologists and anthropologists. The findings in the culture area are mostly all derived from the Diener laboratory and his students. Thus, the papers in this volume represent most of the major publications on culture and well-being. Furthermore, this is the area that is least well-known by most scholars.
Volume 3: The most applied and practical volume because it discusses all the measures used, and presents new measures. Even for those who do not want to study well-being per se, but want to use some well-being measures in their research, this volume will be of enormous help.
(from Amazon.com)
Handbook of Multimethod Measurement in Psychology
By Ed Diener and Michael Eid
Handbook of Multimethod Measurement in Psychology is the first integrative guide to theoretical, methodological, and applied aspects of multimethod measurement in psychological research. Although the multitrait-multimethod analysis and multimethod research strategies have become increasingly important in all areas of psychological research, comprehensible handbooks of multimethod measurement that integrate all phases of the data-gathering and assessment process have been missing. Handbook of Multimethod Measurement in Psychology fills this long-standing gap. Researchers and students of research who want to run a multimethod study or who want to understand a published study no longer must page through methodological journals trying to piece together an understanding of multimethod approaches. This volume provides a single, understandable resource for learning the meaning, advantages, and limitations of different methods. (from APA website)
Well-Being: The Foundations of Hedonic Psychology
by Daniel Kahneman, Ed Diener, and Norbert Schwarz
Well-Being draws upon the latest scientific research to transform our understanding of this ancient question. With contributions from leading authorities in psychology, social psychology, and neuroscience, this volume presents the definitive account of current scientific efforts to understand human pleasure and pain, contentment and despair. (from SAGE website)
Culture and Subjective Well-Being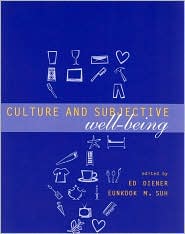 by Ed Diener and Eunkook M. Suh
The question of what constitutes the good life has been pondered for millennia. Yet only in the last decades has the study of well-being become a scientific endeavor. This book is based on the idea that we can empirically study quality of life and make cross-society comparisons of subjective well-being (SWB). A potential problem in studying SWB across societies is that of cultural relativism: if societies have different values, the members of those societies will use different criteria in evaluating the success of their society. By examining, however, such aspects of SWB as whether people believe they are living correctly, whether they enjoy their lives, and whether others important to them believe they are living well, SWB can represent the degree to which people in a society are achieving the values they hold dear. The contributors analyze SWB in relation to money, age, gender, democracy, and other factors. Among the interesting findings is that although wealthy nations are on average happier than poor ones, people do not get happier as a wealthy nation grows wealthier.
(from Amazon.com)
Advances in Quality of Life Theory and Research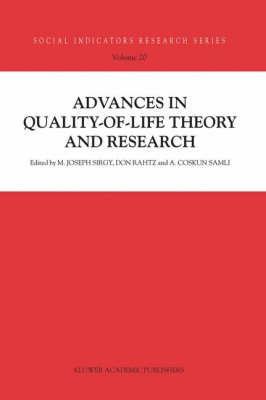 by Don R. Rahtz and Ed Diener
This volume is concerned with quality of life, and focuses on subjective well-being (people's own evaluations of their lives in terms of happiness and satisfaction). The first section focuses on theories of subjective well-being, and on testing these theories. The second section of the volume concentrates on how work, unemployment, and income influence subjective well-being. The third section of the book concerns two important institutions that have an impact on people's well-being -- the health care and political systems.
Other Books
The Science of Subjective Well-Being
By by Michael Eid, Randy J. Larsen
This authoritative volume reviews the breadth of current scientific knowledge on subjective well-being (SWB): its definition, causes and consequences, measurement, and practical applications that may help people become happier. Leading experts explore the connections between SWB and a range of intrapersonal and interpersonal phenomena, including personality, health, relationship satisfaction, wealth, cognitive processes, emotion regulation, religion, family life, school and work experiences, and culture. Interventions and practices that enhance SWB are examined, with attention to both their benefits and limitations. The concluding chapter from Ed Diener dispels common myths in the field and presents a thoughtful agenda for future research.